Bonus Summer Session Special Needs Planning co-sponsored with Community Foundation for Southern Arizona
Date:
Friday, July 21, 2023
Location:
Community Foundation Campus 5049 E Broadway Blvd, Tucson, AZ 85711
Speaker:
Evelyn Kleinhans, Life in Balance Accounting CPAs, PLC & Robert Fleming, Fleming & Curti, PLC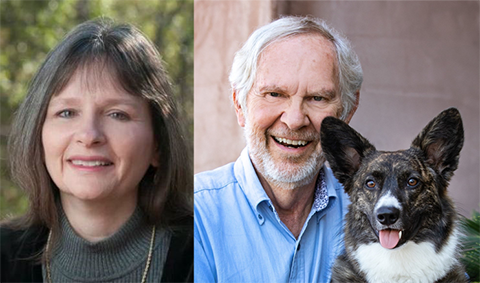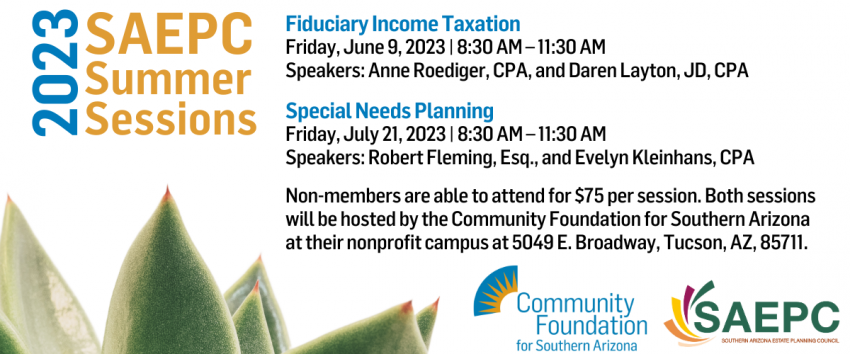 Special Needs Planning
We're kicking off our 2023-2024 season early with two bonus learning opportunities that will be hosted and co-sponsored by the Community Foundation for Southern Arizona. These two sessions will offer six bonus hours of CLE to professionals who join Southern Arizona Estate Planning Council for its '23-'24 season.
About the Speakers
Evelyn Kleinhans' primary focus is on federal income taxation of trusts, estates, partnerships, limited
liability companies, and individuals, with an emphasis on planning for complex fiduciary and
real estate transactions.
Evelyn holds master's and bachelor's degrees in accounting, both earned at the University of
Arizona. She has been published in Taxation for Accountants and Taxation for Lawyers, and has
instructed graduate tax courses at the University of Arizona, the Arizona State Society of CPAs,
and various professional groups. Her professional affiliations include the Southern Arizona
Estate Planning Council, the Tucson Tax Study Group, the Arizona Society of Certified Public
Accountants, and the American Institute of Certified Public Accountants.
Evelyn has volunteered with the Girls Scouts of Southern Arizona, Echoing Hope Ranch,
Animals' Crusaders of Arizona, the Jewish Federation of Southern Arizona, and the American
Cancer Society. She is currently serving on the professional advisory committee for the
Community Foundation of Southern Arizona, and the finance committee for the Primavera
Foundation.
Robert B. Fleming is a partner in the Tucson elder law firm of Fleming & Curti, P.L.C., with a
practice limited to trust (and special needs trust) administration, guardianship, conservatorship,
estate planning, and probate. Mr. Fleming was the original author of The Elder Law Answer
Book, and co-author (with the late Prof. Kenney Hegland) of New Times, New Challenges: Law
and Advice for Savvy Seniors and Their Families. He is certified as an Estate and Trust specialist
by the State Bar of Arizona, and as a Certified Elder Law Attorney (CELA) by the National
Elder Law Foundation. Mr. Fleming is a founding member of the Special Needs Alliance
(www.specialneedsalliance.com). He has lived in (and is passionate about) downtown Tucson,
Arizona (a UNESCO International City of Gastronomy) for over four decades.