Bonus Summer Session: Fiduciary Income Taxation co-sponsored with Community Foundation for Southern Arizona
Date:
Friday, June 9, 2023
Location:
Community Foundation Campus 5049 E Broadway Blvd, Tucson, AZ 85711
Speaker:
Anne Roediger, Roediger Hoff PLC & Daren Layton, Waterfall, Economidis, Caldwell, Hanshaw & Villamana, P.C.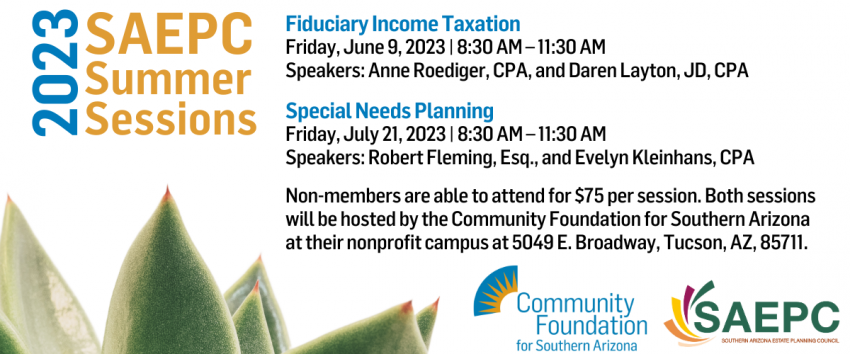 Fiduciary Income Tax
We're kicking off our 2023-2024 season early with two bonus learning opportunities that will be hosted and co-sponsored by the Community Foundation for Southern Arizona. These two sessions will offer six bonus hours of CLE to professionals who join Southern Arizona Estate Planning Council for its '23-'24 season.
About the Speakers
Daren J. Layton assists clients in creating and implementing personalized estate plans, navigating income, gift and estate tax issues, business succession matters, and charitable planning. In addition to lifetime planning, Daren assists clients with probate and trust administration matters. Daren works with clients' other advisers to provide holistic solutions to clients' needs. Daren is also a certified public accountant (CPA).
Anne Roediger is a founding partner at Roediger Hoff PLC, a certified public accounting firm based in Tucson. A fourth-generation Tucsonan, she earned her bachelor's and master's degrees in accounting from the University of Arizona. Anne continually updates her skills with professional education in tax planning, accounting, and leadership training with Mindshop, a global consulting resource. She is an active member of the Southern Arizona Estate Planning Council, the Tucson Tax Study Group, the Arizona Society of CPAs, and the American Institute of CPAs. Anne previously served as treasurer and trustee of the Community Foundation for Southern Arizona. Anne enjoys home improvement projects and piloting small aircraft around the southwest in her spare time.